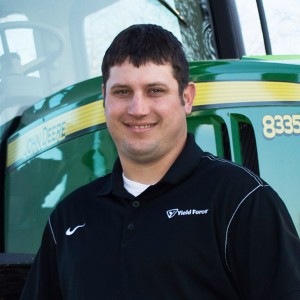 When you ask Brent what a crop producer should focus on, he says "You have to be positive when the times say otherwise and continue to challenge yourself and the others around you to get your operation to where you want it to be. Stay focused on your personal and family goals."
Brent grew up on grain and livestock farm southeast of Richland, IA.  After graduating high school, he went to Iowa State and received a B.S and a M.S in Agronomy.  Brent studied under Palle Pederson while obtaining his Master's and the focus of his program was Sudden Death Syndrome in soybeans.  After Iowa State, Brent went on to work for a private crop research firm in southeast Iowa.  For 4 years, he conducted independent trials for many of the major Ag companies looking at specific items in their pipeline such as traits, seed treatments, herbicides, fertilizers, additives, and much more.
Brent and his wife Whitney live in rural Richland.  When he's not farming or serving clients, Brent enjoys hunting turkey and deer, ice fishing with his father-in-law, spending time with family and friends and the Hawkeyes.
Brent joined Sinclair Tractor and the Yield Force team in December of 2014.
Email: brent@sinclairtractor.com
Cell: 641-224-2741